Metal Access Panel 1hr FireRated SlimFrame Picture Frame White Finish 600x600mm
Availability:
2 working days lead time.
Image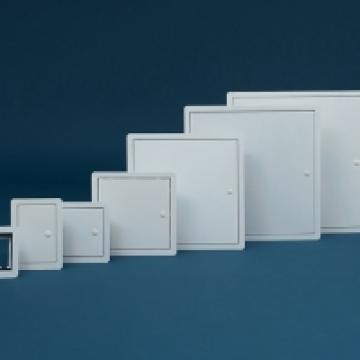 Additional Information
Description Frame fitting size required Clear opening Size Overall Panel and Frame Size Product Code
Metal Access Panel 1hr Fire Rated Picture Frame White Finish 605 x 605mm 560 x 560mm 650 x 650mm APC600x600CR
Multi performance 1 hour fire rated steel access panels to provide access to concealed services and connections for applications where a 1 hour fire rating is required
Fire rating independently tested by Exova Warringtonfire.
Mineral wool insulation, fitted inside the door panel, and draught stripping presents excellent low air, heat and energy leakage and a high acoustic performance.
Visible picture frame smartly conceals cut out edges, as well as contributing to a swift and straight forward installation.
Ideal solution in helping to meet the requirements of:
Building Regulation Part L - Conservation of Fuel and Power (air leakage)
Building Regulation Part J's - Heat Producing Appliances (concealed boiler flue inspection access)
Building Regulation Part E - Resistance to Sound
Hinged, flush door panels with twist lock or key lock mechanism.
Features & Benefits
Saves time and money in comparison to site fabricated hatches
Independently fire rating tested by Exova Warringtonfire
Mineral wool insulation
Draught stripped
32mm low profile frame ideal for installation with 15mm plaster board
Flush fitting door panels with excellent aesthetic appearance and finish
Visible picture frame smartly conceals cut out edges
Enduring polyester powder coated finish
Allows for painting if required
Quick and straightforward to install
Universal door handling
Hinged door panel with T-key lock mechanism
Key lock available upon request
Quick release door panel mechanism fully removes to the door for maximum access
Acoustic performance of 33dB (contact the Timloc Technical team for more information)
Applications
Ideal for projects with reduced air leakage and/or acoustic performance requirements.
Frequently used applications:
dry lined walls
ducts
ceilings.
Technical Information
Fire rating: 1 hour
Acoustic performance: 33dB (please contact the Timloc Technical Team for more information)
Insulated and draft stripped: Yes
Insulation spec: Mineral wool (45 kg/m3)
Closing mechanism: Square T-Key Lock or Key Lock available on request
https://www.timloc.co.uk/access-panels/metal-access-panels/metal-1-hour…