Soudal Exp. Fire Foam Gun Grade 750ml
Availability:
In stock and available at our warehouse.
Image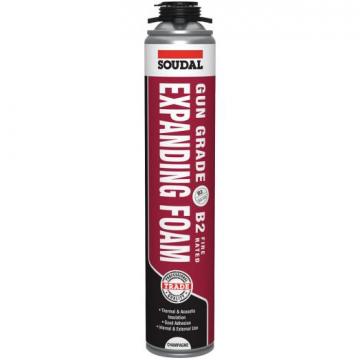 Additional Information
Gun Grade FIRE RATED one component, expanding polyurethane foam filler. Rapid curing. Excellent thermal and acoustic insulation properties.
Excellent primerless adhesion on most construction materials.
Featured properties
Fire rated polyurethane foam filler
EN1366-4 – Fire resistance, up to 2 hours depending on joint configuration
Fire class DIN 4102 B2
Acoustic rating - 58 dB
Insulation factor - 36mW/mK
Applications
For use in passive fire protection systems as a large gap filler; installation of fire retardant window and door frames; sealing of expansion and connection joints, penetration seals.
Thermal and acoustic insulation around doors and window frames, pipe penetrations, insulation and roofing materials and general construction.
https://www.soudal.co.uk/pro/products/trade-range/fire-rated/trade-expa…