5lt Wintamix Frostproofer
Availability:
In stock and available at our warehouse.
Image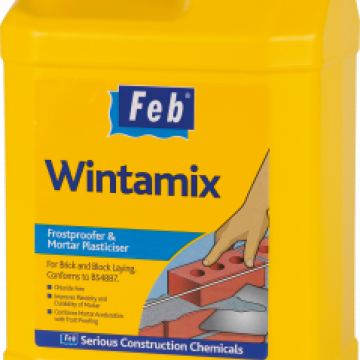 Additional Information
Wintamix is a chloride free, double action liquid frostproofer and air entraining mortar admixture for use throughout the winter period, and also in sub-zero temperatures.
Suitable for steel reinforced concrete, Improves workability of mortar and increases resistance to frost in both wet and hardened state. Conforms to EN943-3:2009.
PRODUCT CODE DESCRIPTION COLOUR PACK SIZE BOX QTY BOXES / PALLET
FBWINTA5 WINTAMIX CLEAR 5LTR 4 30