AH6 Part L 1hr fire rated lockable hinge down loft trap
Availability:
2 working days lead time.
Image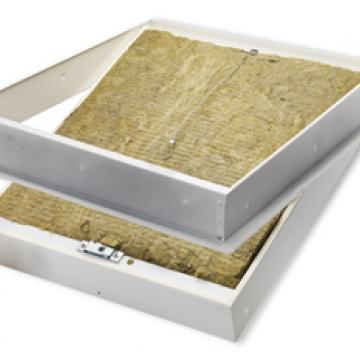 Additional Information
The energy conservation and air leakage requirements of Building Regulations (Approved Documents L and C) mean that a loft hatch needs to be a high-performance product.
Site-constructed hatches are no longer adequate. Glidevale loft access hatches have been designed and engineered under BS EN ISO 9001 to meet these latest demands.
AH6 1 hour fire-rated (FR) hinge-down hatch
The door and frame are formed from 1.0mm and 1.2mm Zintec electrogalvanised mild steel finished in polyester powder coating with insulation infill. Closed cell gaskets. Concealed key-operated lock.
Option: High-security lock for communal areas.
Benefits
● All models meet or exceed the NHBC minimum opening size (NHBC Standards 7.2-D14).
● Each Glidevale loft access hatch is a complete unit comprising frame and door, with integral closed- cell air/vapour seals and thermal insulation.
● The integral seals significantly reduce water vapour migration into the loft space, reducing condensation risk.
● The seals also virtually eliminate heat loss by air movement around the hatch door and exceed the airtightness requirement of the Approved Documents, as demonstrated by test.
● The hatches provide continuity of thermal insulation at ceiling level, substantially reducing heat loss by conduction through the hatch.
● Options with enhanced insulation meet the minimum U-value requirement of the Approved Documents.
● Optional key-operated security for tenanted properties or public areas.
● 1 hour and 1/2 hour fire resistance options with Class 0 surface flame spread available.
● Suitable for standard 600mm joist centres
http://www.glidevale.com/loft-hatches/p/27
http://www.glidevale.com/uploads/c97ee51d9cbe6bfa68686ed66abdd329.pdf