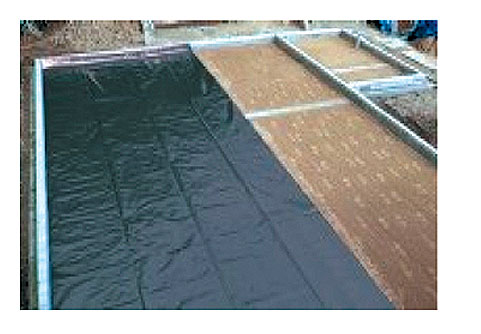 Damp Proof Membrane (DPM) is manufactured from high quality reprocessed low density polyethylene and is used to prevent the capillary rise of water or water vapour from passing through the foundations into a building though not where it is subject to hydrostatic pressure. DPM is available in three standard thicknesses, 250μm (1000gauge) in a 4x25m roll, 300μm (1200gauge) in a 4x25m roll and 500μm (2000gauge) in a 4x12.5m roll.
Ground Gas Protection
The main methods of protecting buildings from gas ingress are the provision of a robust floor slab and gas resistant barrier across the floor slab combined with an underfloor passive venting system. The impermeable gas membrane provides a barrier to gas ingress and should be continuous beneath the full ground floor plan of the building. The membrane used will differ as to which gas needs preventing and can be advised at point of enquiry, the main gases are methane, radon, carbon dioxide and hydrocarbon gases.
Both the standard DPM and gas membrane may require jointing to other sheets, jointing to a DPC, a top hat or a cloak. In which case there is a range of accessories to enable this. We supply double sided tape as 50mm x 10m or 100mm x 15m and single sided tape as foil jointing tape 75mm x 50m or a GR lap tape 150mm x 10m. Accessories also include pipe sleeves (top hats) and corner cloaks.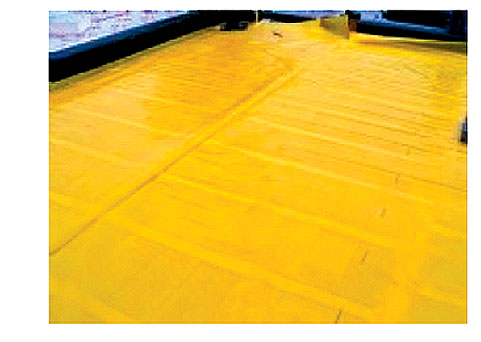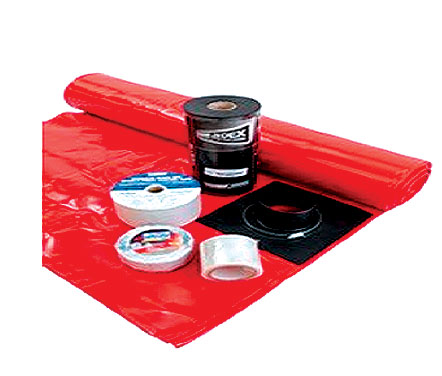 Tips for lapping and jointing
Ensure that all surfaces to be jointed are dry, clean, and free from grease, mortar droppings, etc.

Do not joint membranes and DPC/cavity trays in temperatures below 5°C. In temperatures between 5 and 10°C, some warming with a hot air gun may be required.

Use a roller to exert maximum pressure when joining sheets with Visqueen DPM Double Sided Jointing Tape.

If the membrane is below a steel reinforced concrete slab, cover with a screed or Visqueen Heavy Duty Protection Board prior to the positioning of the reinforcement.

If the membrane is above the slab, delay installing the membrane until just before laying the screed or flooring topping (or thermal insulation where above the slab) to avoid damage from site traffic.

Ensure that any screed laid directly on the membrane is at least 50mm thick.
Remove loose debris from the surface of the floor slab and unroll the first sheet of membrane. The surface of the slab should be smooth and free from projections or indentations – if very rough, apply a sand blinding. Remove the protective paper from one side of the appropriate jointing tape and apply it to the first sheet, starting about 50mm from the edge. Ensure that all surfaces are dry for maximum adhesion. Unroll the second sheet along the joint, overlapping the first by at least 150mm. Press firmly onto the double sided tape, gradually removing the protective paper. Seal the edge of the overlap with appropriate sealing tape.