Sealants Adhesives and Building Chemicals
To enable a full offering we are able to supply the Geocel; Dow Corning and Trade Mate, Everbuild and Bond-it product ranges. This enables us to supply a comprehensive selection of chemical products used in the building industry, such as:
TOP GUN Multi Purpose Silicone Sealant
Description: Provides excellent adhesion, a watertight seal and remains permanently flexible. TOP GUN Multi Purpose Silicone Sealant is safe and easy to apply, prevents mould growth and gives an excellent finish.
Benefits: Waterproof and Durable, Mould Resistant, Permanently Flexible, For Interior & Exterior Use. Available in white, brown, black and clear.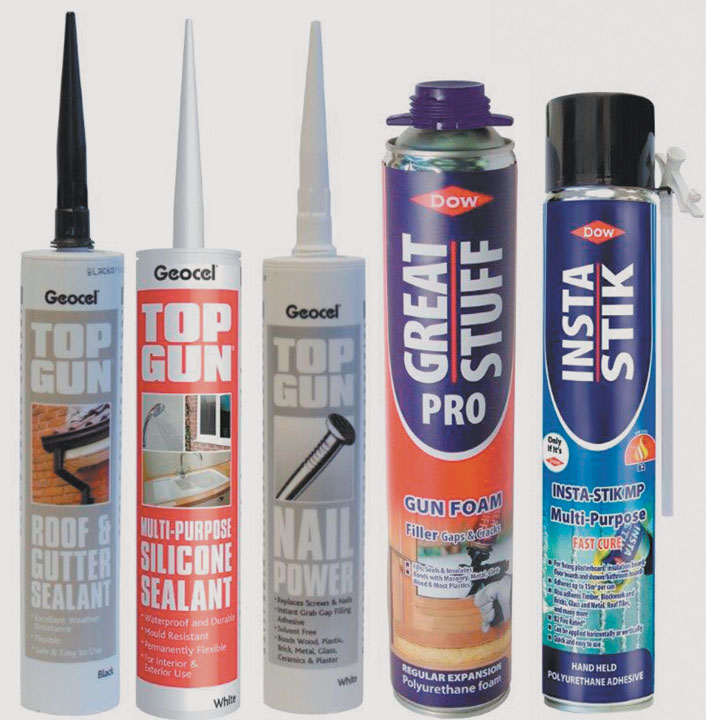 Dow Great Stuff Pro Gun Foam Filler Gun Applied Polyurethane Foam
Description: A one component, moisture curing, polyurethane foam. It seals, fills, bonds and insulates most construction materials and cures to form a tough, resilient and long lasting semi rigid cellular structure.
Main Uses: Suitable for use as an aid to mechanical fixing and gap filling around door and window frames.
Benefits: Ready to use, fast curing, high performance, one component material.

Self moulding to surface irregularities.

For internal and external applications.

Gives effective insulation against damp and draught and is completely water resistant. Additional: Pack Size -750ml 'e' can for use with applicator gun, 750ml 'e' Straw applied can.
Dow INSTA-STIK MP
Description: INSTA-STIK MP (Multipurpose) adhesive is fast curing and low expansion.
Main Uses: Quick and easy to use it is ideal for fixing plasterboard, insulation board and most common building substrates.
Benefits: 3 – 5 minute cure time, NO need for heavy bags of dry wall adhesive, will go further than a 25kg bag, NO Mixing, water or electricity needed, NO preparation time, NO waste or mess, INSTA-STIK MP can be reused, NO need to wait, can plaster 1 hour after application, NO visible fasteners, B2 fire rated.
Additional: Pack Size -750ml 'e' can for use with applicator gun, 750ml 'e' Straw applied can.
Geochem Water Resistant Wood Adhesive
Description: Geochem Water Resistant Wood Adhesive is a high quality resin based wood adhesive suitable for all general uses in woodworking and joinery applications.
Main Uses: It can be used internally and externally and provides a high strength, impact resistant bond that is usually stronger than wood itself. Geochem Water Resistant Wood Adhesive is ideal for all wood to wood bonding, such as window frames, door frames, furniture assembly, DIY and household use. It dries to a clear finish that can be sanded, painted or stained. Full bond strength will be achieved in 24 hours.
Benefits: For internal and external use, High strength wood to wood bonding, Suitable for most woods, Dries clear - easy clean up, Quick drying.
Geocel QUICKGRIP Multipurpose Gap Filling Adhesive
Description: Geocel QuickGrip is a multi-purpose gap filling adhesive which is suitable for bonding most porous and non-porous surfaces. It has instant grab and cures to form a high strength bond.
Main Uses: Ideal for fixing plasterboard or timber panels, skirting boards, carpet gripper strips, dado rails, general DIY and repairs.
Benefits: Instant grab, Multi-purpose gap filling qualities, Excellent adhesion to most porous and non-porous substrates, Cures to form a high strength bond, Coverage rate of 12 metres of 6mm diameter bead.
Geochem Easy Mix
Description: Geochem Easy Mix is a super concentrated mortar plasticiser packed in a unique 1 Litre bottle.
Main Uses: It will plasticise 100 x 25kg of cement (depending on coarseness of sand). 1 Litre of Geochem Easy Mix is equivalent to 25 Litres of conventional plasticiser.
Benefits: Improves workability of mortar and concrete mixes, Minimises cracking and crazing, Reduces water content of mortar, Enables accurate dosing, Easy to use - no waste, Super concentrated formula and integral measure allows easy one handed application, Controllable measure, Perfect mix everytime, Saves time.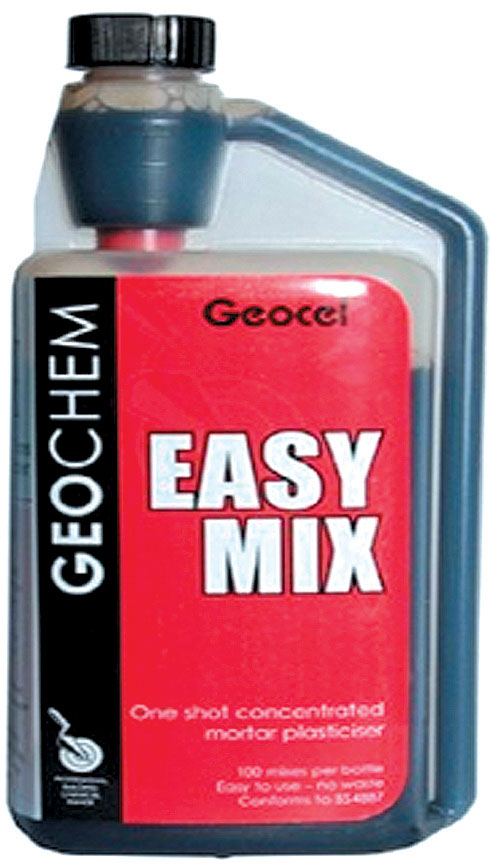 Geochem 3 in 1 Admixture
Description: Geochem 3 in 1 Admixture acts as a waterproofer, retarder and plasticiser. It reduces water penetration, slows setting time allowing large areas to be covered in one application and improves workability. It improves durability by entraining a limited quantity of air into the mix to impart freeze thaw stability.
Main Uses: Geochem 3 in 1 Admixture is ideal for use in renders, pebble dashing, rough cast and harling finishes, and general waterproofing groundwork.
Benefits: Protects against rain and damp, Slows setting time - ideal for large areas, Improves workability, Salt inhibitor.
Geochem Universal PVA Adhesive and Sealer
Description: An adhesive and sealer suitable for a multitude of priming, sealing and bonding applications in the construction industry and for general purpose around the factory and office. It is non toxic, safe and easy to use and can be diluted with water or used neat according to the application.
Main Uses: Ideal as a multi surface primer and dustproofer prior to repairs or finishing. It seals concrete, plaster and mortar surfaces and can also be used as an additive to cement and plaster to increase the strength and adhesion properties.
Benefits: Can use diluted or neat according to the application, Easy to apply using either a brush or roller, Touch dry in 30 minutes, Maximum strength realised in 24 hours.
Geochem Integral Waterproofer
Description: A liquid additive that provides long term water protection to mortar, concrete and rendering. It improves workability and strength, and will not corrode reinforcing metals.
Main Uses: Geochem Integral Waterproofer is suitable for all applications where resistance to water damage is necessary, including external rendering and pointing, roof areas, structures below ground level, and pool and tank linings.
Benefits: Waterproofing plasticiser for mortar, concrete and rendering, Dramatically reduces water penetration, Protects against erosion from water ingress, Salt inhibitor, Eliminates suction.
Acid Brick Cleaner
Description: A hydrochloric acid based cleaner. Main Uses: Removes cement and mortar splashes along with grease and grime from bricks, tiles, concrete and patios and more.
Benefits: For use on brick, stone and concrete, Hydrochloric acid based.
Geochem Powder Cement Colour
Description: Produces a permanent colour in concrete, mortars, floors and renders for bricklaying or pointing and roof tiling to verges and ridges. It is also ideal for paths, paved areas, fence posts, garden ornaments, and more.
Benefits: he pigments disperse easily into the mix to give a uniform shade for easy mix batch.
Available Colours: Black, Brown, Buff, Red.