Plastic Hinged Loft Access Door 670x570 White Finish Keylock
Availability:
2 working days lead time.
Image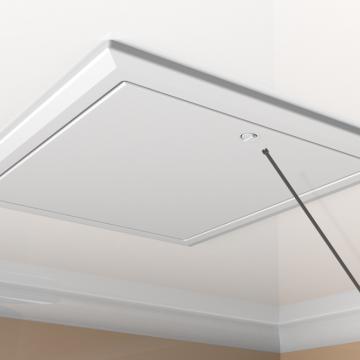 Additional Information
Description Frame fitting size required Clear opening Size Insulation U Value Product Code
Plastic Hinged Loft Access Door 670x570 White Finish 562mm x 662mm 526mm x 626mm 0.82 W/m2k 1169/KL
Insulated hinged loft access hatch and frame sets to provide simple, easy access through ceilings into the loft space.
Loft doors with zero air leakage* at Part L's 50 Pa - under positive test conditions.
Featuring an integral anti-draught, vapour and condensation migration seal with a choice of insulation U value performances of 0.82, 0.35 and 0.25W/m2k.
Simple twist operated catch release with secure key lock option.
Tested by BRE (Building Research Establishment) as meeting Building Regulation Part L's reasonable air leakage requirements of <10m3/(h.m2) at a pressure differential of 50Pa and BS5250:2011
Designed to fit between 38mm thick trussed rafters or ceiling joists spaced 600mm centres which provide a clear joist opening width of 562mm.
Easy to use, from floor level, and cost effective dedicated loft door operating poles available for this range - to be ordered separately (not suitable for key lock variants).
Clean simple design that will blend well with most surrounding decors; with slightly textured finish that can be painted if required.
Concealed downward opening hinge mechanism allows use with telescopic loft ladder systems.
Free Loft Hatch/Loft Door BIM and Revit components available.
*air permeability measured at 50Pa as 0.00m3(h.m2) under positive pressure test conditions.
Features & Benefits
Insulated door panel
Standard, 0.25* and 0.35* U value insulation performance options (*to help meet the requirements the Robust Details)
Integral anti-draught and condensation migration seal
Purpose made product saves time and money compared with traditional joiner-made timber loft access doors
Meets the requirements of Part L's air leakage requirements and BS5250:2011
Air permeability measured at 50Pa as 0.00m3(h.m2) under positive pressure test conditions
Excellent aesthetic appearance
Factory finished and ready to fit straight from the box
Can be painted if required
Easy twist operated 'anti uplift' catch or secure key lock alternative
Applications
Residential new build installations
Product replacement projects
Technical Information
Ozone depletion potential (ODP) of zero
Global warming potential (GWP) of less than 5
Contains polystyrene insulation with a thermal conductivity of 0.038W/mk, therefore a correction U value of 0.004W/m2k should be calculated to the proposed U value figures for a ceiling
The insulation materials featured in this range do not use, contain or produce Urea Formaldehyde, CFC's or any of the soft CFC's, ie HCFC's
Meets the air leakage requirements of Building Regulation Approved Documents L1A & L2A (20130 editions) 'Conservation of fuel and power' of <10m3/(h.m2) at a pressure differential of 50Pa
Complies with BS5250 2011 the Code of Practice for control of condensation in buildings
https://www.timloc.co.uk/loft-hatches/plastic-loft-hatches/zero-air-lea…