TF200 Std Blue Breather Paper 0.54x100m
Availability:
4 working days lead time.
Image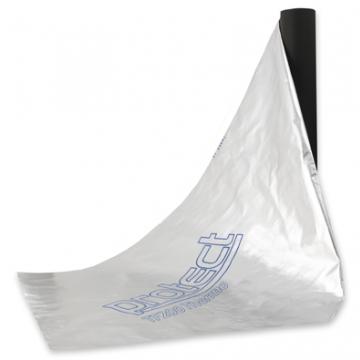 Additional Information
Protect TF200 Thermo is a high performance breather membrane designed for protection of external timber framed walls during the construction process and provides secondary protection after construction minimising the risk of interstitial condensation. Its highly reflective and durable surface also enhances the thermal performance of the final wall construction.
Low emissivity reflective surface used to improve the overall u-value of the wall.
Helps to meet the requirements of Approved Document Part L.
Meets the permeability requirements recommended by TRADA and NHBC.
Corrosion and damage resistant.
Good nail tear resistance.
Further thermal performance can be obtained using Protect TF200 Thermo in conjunction with Protect VC Foil insulating vapour control layer.
http://www.protectmembranes.com/protect-tf200-thermo-insulating-breathe…
http://www.protectmembranes.com/uploads/015f524a5bcc645e8f79bd2bdd804c6…