550 x 1180mm Pine Finish Fire Escape Thermal Roof Window
Availability:
2 working days lead time.
Image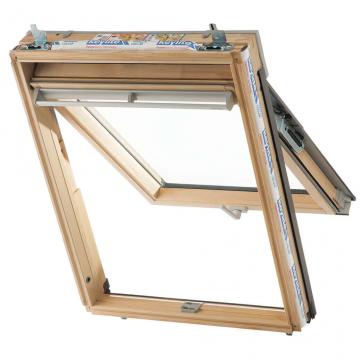 Additional Information
Keylite Fire Escape Thermal Roof Window 550 X 1180 Pine Finish
The Keylite Fire Escape Roof Window opens to 45°, complying with statutory regulations.
This is ideal in low pitch roofs as the window opens outward, maximising the daylight that enters the room without the sash encroaching on your valuable internal space.
Product Width - 550mm
Product Length - 1180mm
Benefits / features
Means of Escape
Easy to Use
Expanding thermal collar fitted to the window as standard
Easy Cleaning
Electric Upgrade Options
Our standard Pine Finish enhances the natural beauty of the wood, with a hard wearing, clear, satin lacquer applied in multiple coats.
10 Year Guarantee
Timber with clear satin lacquer applied in multiple coats
Ideal for most interiors
Practical and Hard-wearing
https://www.keyliteroofwindows.com/products/roof-windows/fire-escape-to…