90-105mm Cavity Two Piece Heavy Duty Lintel 1950mm
Availability:
6 working days lead time.
Image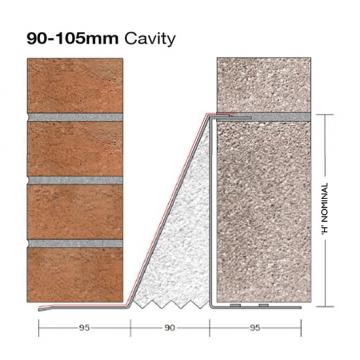 Additional Information
Cavity: 90-105mm
Outer Leaf: 100mm
Inner Leaf: 100mm
Must have solid, fully jointed blockwork infill to inner leaf.
We are the only lintel manufacturer to hot-dip galvanize after fabrication providing up to 50% more zinc protection than other approved coatings.
Supergalv coating offers superior life expectancy
Our standard cavity lintels deliver up to 55% improvement on SAP default value in thermal bridging.
Length 750-1800 1950-2400 2550-2700 2850-3000 3150-3600 3750-4200 4350-4800 4950-5100
L (kN) 70 60 60 55 45 40 35 25
W (kg/m) 14.8 14.8 17.6 17.6 17.6 17.6 17.6 17.6
H (mm) 231 231 232 232 232 232 232 232