60x4.5mm Decking Screw Boxes (200)
Availability:
In stock and available at our warehouse.
Image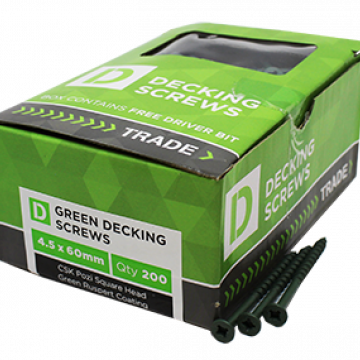 Additional Information
Decking Screws - Green Single threaded decking screws designed with a pozi drive countersunk head specially designed to prevent splitting of decking boards whilst allowing them to expand and contract with the seasons.
Finished in a special green coating which has been tested for corrosion resistance against ACQ (Alkaline Copper Quaternary) treated timber.
Code Name Size Per Case Box Qty
QD60DECKBUD 60x4.5mm Decking Screw BOXES (200) 60 x 4.5mm 4000 200