Cavity trays are predominantly used at the abutment of either a pitched, flat or mono pitch roof within a cavity wall and are also used over ring beams, airbricks, cavity liners, ducts, meter boxes etc.
Adjustable Cavity Trays
Adjustable stepped trays are required in pitched roof scenarios, most commonly used to suit roof pitches of 25 degrees and above in standard masonry construction. Trays are manufactured as 225mm long with a 195mm high upstand to suit cavity widths between 50 and 110mm.
Stopend starter or corner starter trays provide the starting point in a pitched roof application with intermediate trays providing the bulk of the trays as masonry rises, finally ridge trays or horizontal trays are applied at the uppermost of the requirement.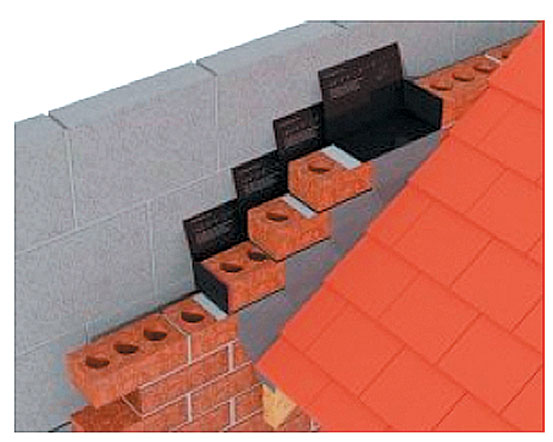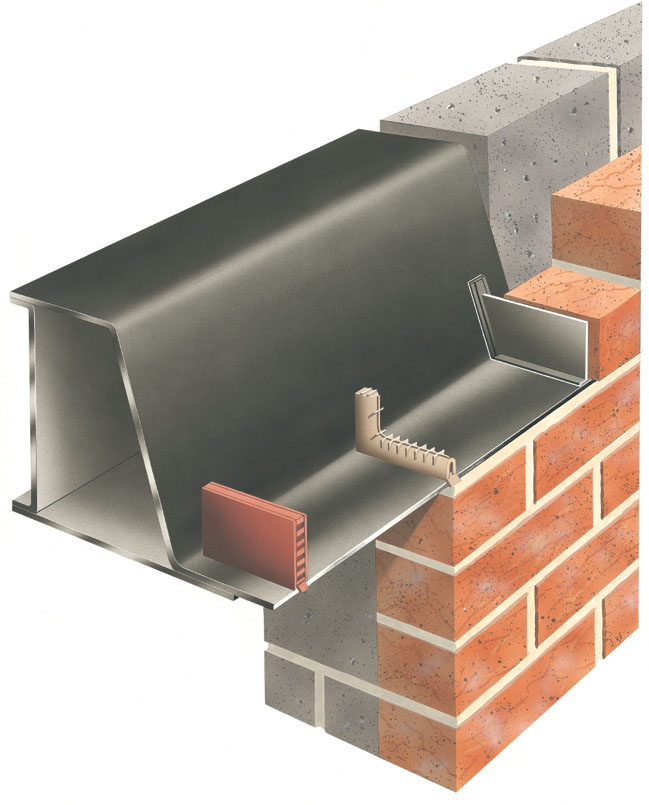 Wall weeps are always used at the stopend starter or corner starter positions, but can also be used with the intermediate trays especially where high moisture or porous facing brickwork scenarios are encountered.
Where pitches are lower than 25 degrees then longer trays are available with a 420mm long tray suitable for pitches of 17.5-22.5 degrees and trays of 525mm suitable for pitches between 10-15 degrees.
Trays are also manufactured for blockwork and stonework to suit varying wall thickness and roof pitches.
All of our trays can be supplied non-leaded or with lead attached, either as a short lead or long lead option usually depending on the roof finish the lead will be dressed onto.
As an alternative we also supply a lead replacement product on our cavity trays with all details available upon request.
Non-leaded trays are also available on request with pre-applied polystyrene strips. Polystyrene is much easier to rake out than mortar and offers a visual locator of the cavity tray so aiding the installation of post fitted lead work.
Stepped cavity trays must always be bedded onto fresh mortar, never dry bedded. The brickwork, which is then laid over the cavity trays, must also be bedded onto fresh mortar. The base of the cavity tray should be positioned approximately half way through the mortar joint.
The cavity area must be kept clean and free from mortar droppings and debris. A build-up of mortar within the cavity tray could seriously affect the cavity tray's performance.
Intermediate trays have one closed end and one open end, which results in them being either left or right-handed.
It is very important to ensure that the correct hand is used to suit the direction of the roof slope. The closed end of the intermediate tray must be positioned closest to the roofline, with the open end pointing away from the roof. The corner of the closed end of the tray should be positioned on the guideline, 75mm above the finished roofline.
Horizontal Cavity Trays
Flat or mono pitch roofs are catered for with horizontal trays. Horizontal trays can be used in new build or as refurbishment applications where no tray has previously been inserted.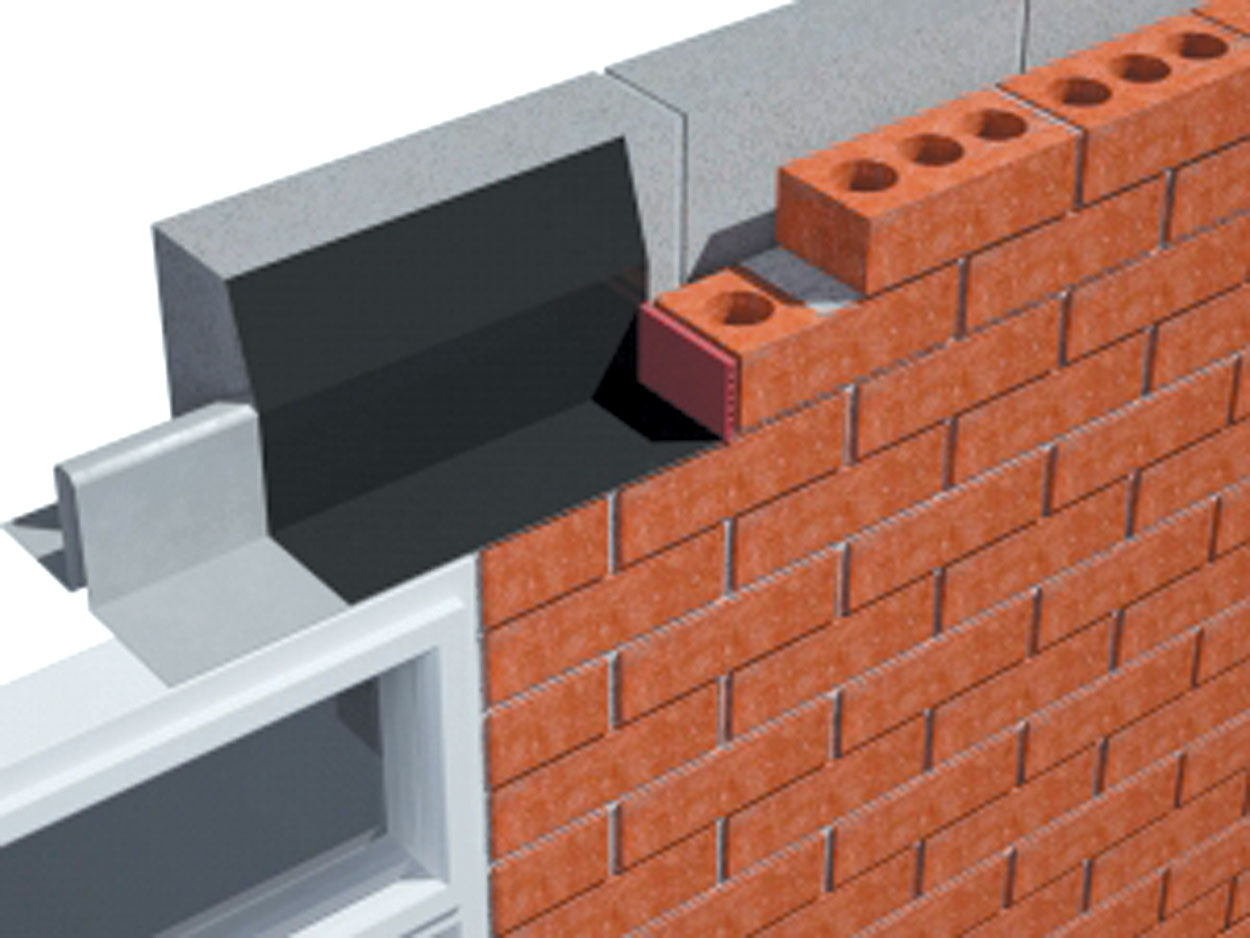 Inter-loc cavity trays are designed to fit cavities of between 50-125mm. They are suitable for brick, block and stonework construction (cutting of masonry may be required).
Inter-loc trays are manufactured to standard brickwork bonding lengths either as a four brick length or two brick lengths and are designed to join together using the lapped interlocking join. Weep holes are used as one per tray.
System 2000 range is an alternative to the interloc and allows for trays to join together by means of a lapped joint that is sealed with butyl mastic tape, Surfaces must be clean and dry otherwise a good seal will not be formed. The system comes with a choice of two lengths, 880mm for general use and 460mm to reduce waste when making up a run of cavity tray. Weep holes are used every 900mm continuous run.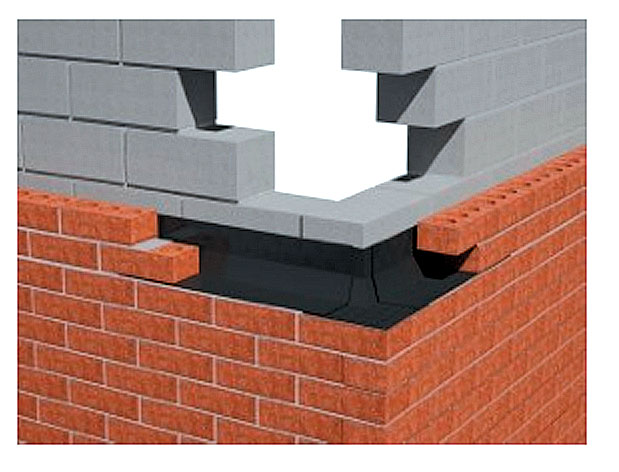 Both ranges above are supplied with a range of accessories, including corner units and stopends. Corner units are available as either an internal or external offering with left and right hand stopends. It is advised to always order stopends for each application to allow for cut trays in the interloc system and as a natural start and finish point for the system 2000 range.
Tip: With pre-formed cavity trays, it is only necessary for the cavity tray to project far enough into the cavity to intercept drips falling from the wall ties, they do not necessarily need to span all the way across the cavity.
Cavity trays can be supplied with either short or long lead, also the trays are available upon request with pre-applied polystyrene strips allowing for ease of raking out and as a locator where lead work is post fitted.
Refurbishment Cavity Trays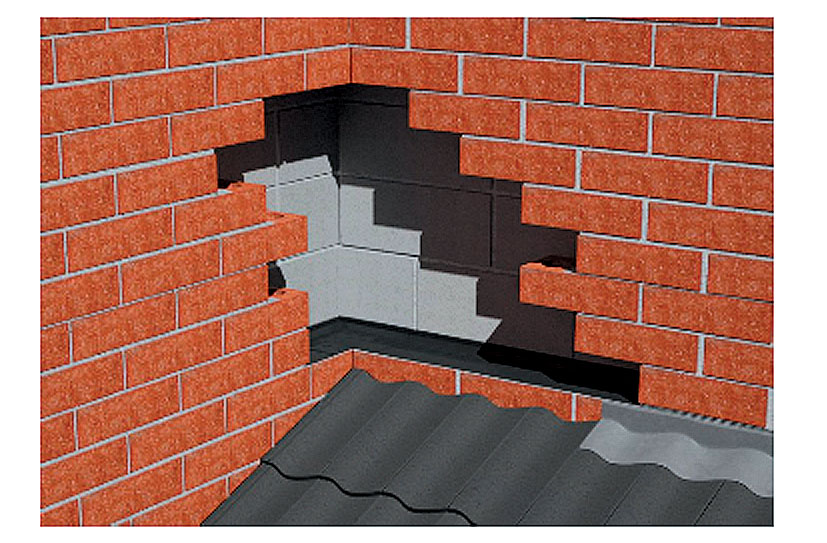 Refurbishment cavity trays are primarily designed for use where a horizontal cavity tray is to be inserted into an existing wall.
Each tray is 460mm in length but by allowing an overlap of 20mm for joining their effective length is 440mm. Trays can be inserted into a wall without ever having to remove more than three bricks at any one time. Trays should always be ordered with stopends and internal and external corners are available as well.
A versatile cavity tray utilising continuous creases to enable the tray to be folded to suit a variety of applications, with the added benefit of being self supporting.
Can be used over proprietary lintels and ideal for use at ground level as a continuous cavity tray or in parapet applications. MCR can be folded to form a continuous radon cavity barrier and comes in 25m rolls.
Full range of corners steps and stop ends available.