Loft Ladder Door and Frame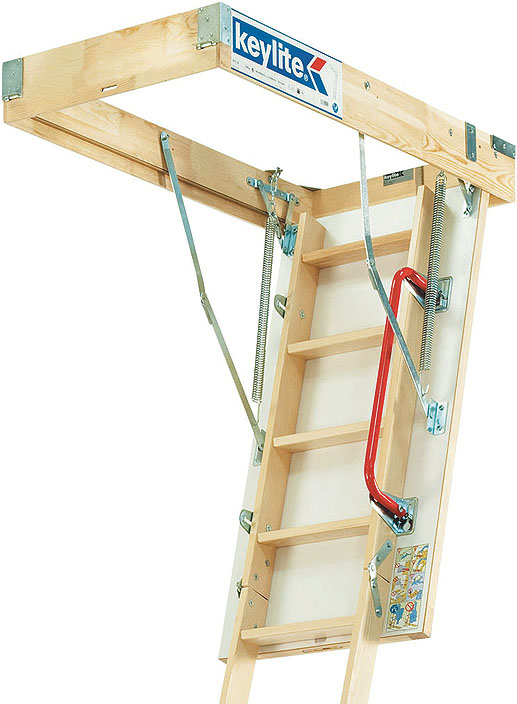 Keylite loft ladders are designed to ensure simple, fast installation. With pre-installed flick-fit brackets, allowing installation from below the loft, and with a unique detachable ladder that enables one-person installation, the Keylite Loft Ladder is designed to make your life easier.
Features
Continuous seal around trap door of the loft ladder reduces heat loss. A white 32mm thick insulated trap door, Keylite's loft ladders have dovetail joints for added durability, slip resistant treads, pre-fitted handrail on loft ladders trap door as standard, trap door fully recessed into frame flush with ceiling, loft ladder is fully assembled and easy to install and all loft ladders have the U-value 1.1w/m2k* and a recessed locking mechanism.
Loft Access Doors and Access Panels
Loft access doors' primary function is to provide simple, easy access through a ceiling and into a roof void. They are available in both a plastic and a metal finish and different sizes with both hinged operations or as a drop in door. We supply doors from Timloc, Glidevale and Manthorpe which gives us a large range to suit any requirement. Plastic doors are made in specific sizes whereas metal doors can be manufactured to a variety of sizes and are available as a fire rated option.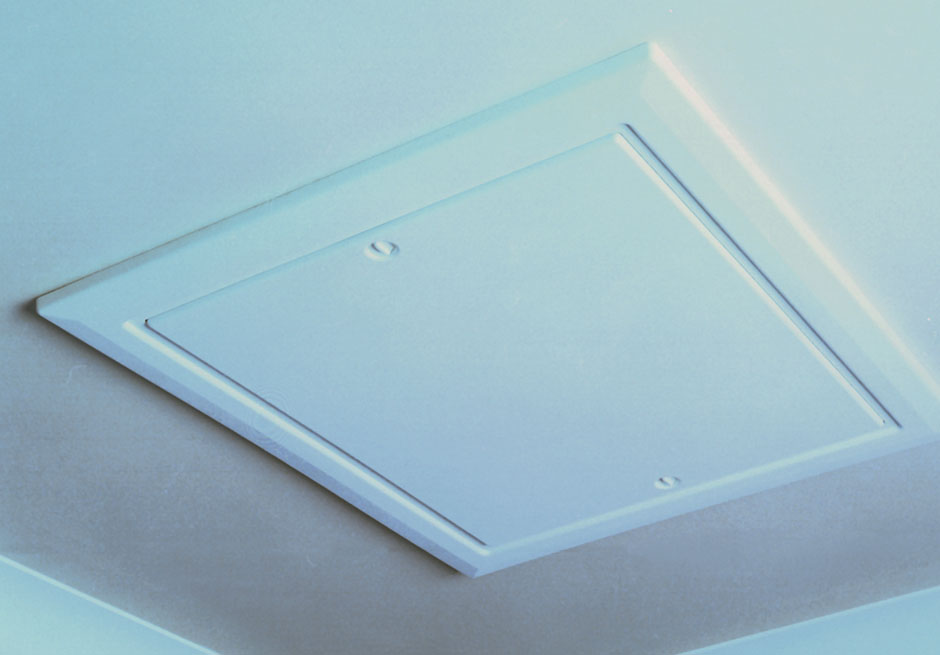 Timloc Loft Doors
Timloc offer two standard plastic loft doors as their P1168 push up door and P1169 drop down door, both to suit trimming size of 562x662, and two standard fire rated doors as their P1161, trimming size of 542x630, and their P1160 with a trimming size of 542x745mm. The P1169 is available with extra insulation for increased U-value.
Glidevale Loft Doors
Glidevale offer an LA1 Push up trap and an LA2 Hinge down trap both with trimming size 717x555, and also offer an LA5 push up half hour fire rated loft access with Class O surface spread of flame with trimming size 560x560 and an LA6 1hr fire rated hinge down trap with trimming size 705x542mm.
Manthorpe Loft Doors
Manthorpe offer a GL250 drop down loft door with optional enhanced U-values, a GL251 lockable drop down loft door and GL250-03 drop-down/liftout access door all with trimming size 562x726mm, also the GL260+261, both with trimming size 562x562 and also fire rated options for trimming sizes above.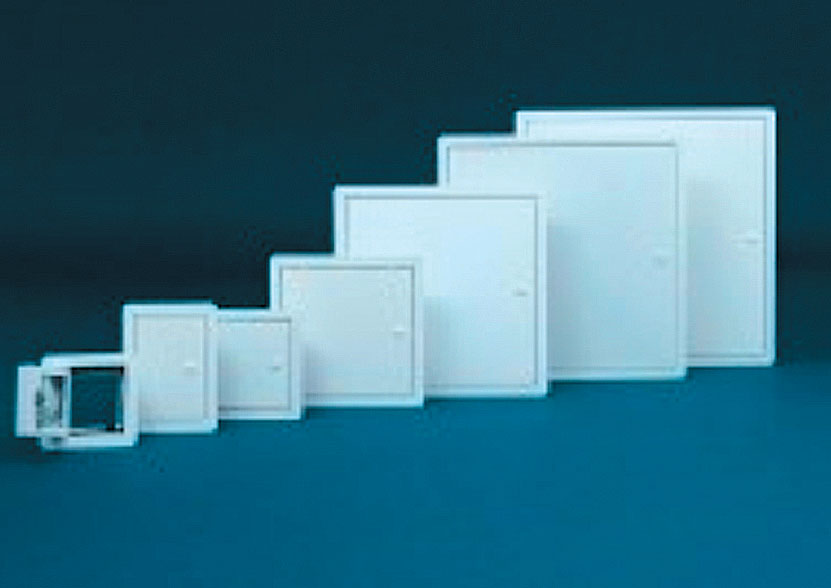 Access Panels
Access panels are a cost effective yet reliable and simple method for providing access to services and connections behind dry lined walls, ducts, ceilings and cupboard units. As they are purpose made they are able to save time and money compared with on site productions and offer an excellent aesthetic appearance with a textured finish which allows painting if required. Standard sizes in a standard plastic finish include 100x150, 140x220, 190x190, 455x455.
Access doors are available as a clip fit or hinged and can be manufactured to bespoke sizes in a metal non-fire or 1hr fire rated finish.