An alternative range of impact resistant drylining and wet plaster beads for internal or external use.
PVC Plaster Beads are designed for use externally where galvanised beads cannot be used or where they are preferred to stainless steel. They are also used internally in high moisture content areas or where pro-longed drying out periods may be necessary.
Other benefits include:
Simple installation (with plaster dabs or stainless steel fixings)

No sharp edges, and safe to handle;

Easy to cut (by use of tin snips or fine tooth saw);

Non corrosive;

PVC Bead is supplied as standard in white, although many colours are available upon request by supplying us with the relevant 'RAL' reference code.
PVC-U Angle Bead
PVC-U Angle Bead is for use on all plastered and rendered corners, where a true sharp corner is required. It protects the plaster at its most vulnerable point. PVC-U Thin coat angle bead is used to provide a true sharp corner on plasterboard corner joints or for any smooth background and again protects the plaster at is weakest point, designed to suit plaster/render depths of 2/3, 6/10, 8/12 and 13/19mm and length 2500mm.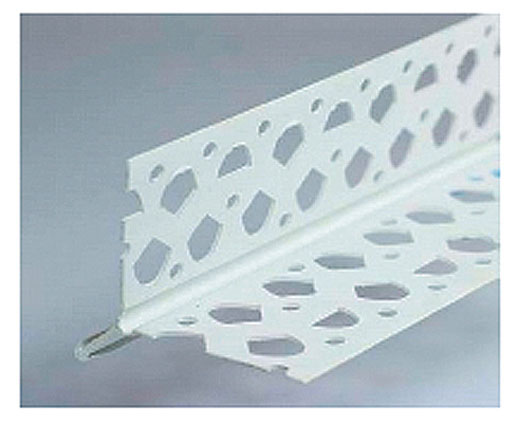 PVC-U Plaster Stop Bead
PVC-U Plaster Stop Bead is used to provide a straight clean finish on the edge of plaster or render at door or window openings and to protect and reinforce this edge. Available in depths of 3, 6/8, 8/10, 10/12, 15/17 and 20/22 and length 2500mm.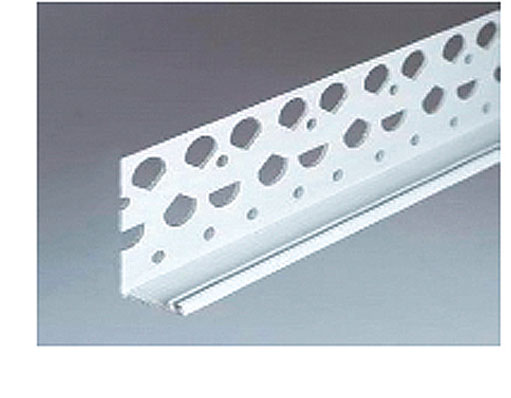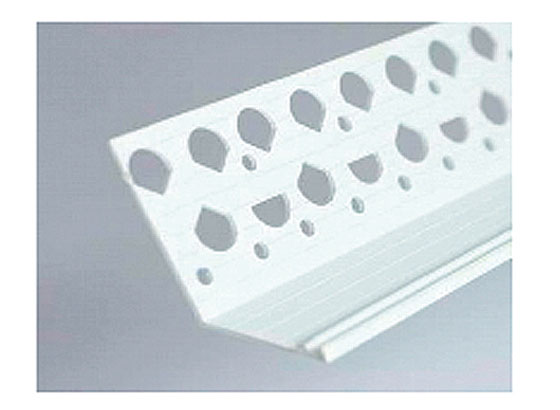 PVC-U Render Stop Bead
PVC-U Render Stop Bead is predominantly used to form a neat bell shaped edge at the bottom of an external render finish, thus protecting the edge and acting as a run-off for when rainfall occurs. Render depth 6/12, 10/15 and 12/22 and length 2500mm.
PVC-U Arch Bead
PVC-U Arch Bead is a flexible dry lining bead used for creating decorative plaster curves and arches. Size 2/3mm and length 2500mm.
Galvanised 43mm wide for internal use at 2400mm or 3000mm lengths or stainless steel 50mm wide for external use at 3000mm lengths.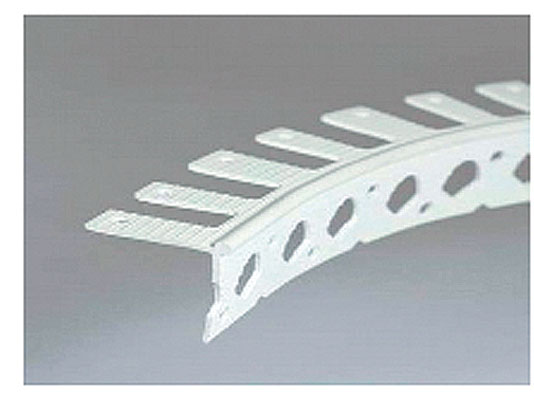 PVC-U Movement Bead
PVC-U Movement Bead is used to overcome movement tolerances in plaster and render finishes thus minimising cracking in finished coat. It can also be used to act as a stop barrier for when a change in finish is required or type of render finish. Available for depths of 6, 10, 15 and 20mm and length 2500mm.
Stainless steel for external use, available as 13mm and 3000mm lengths.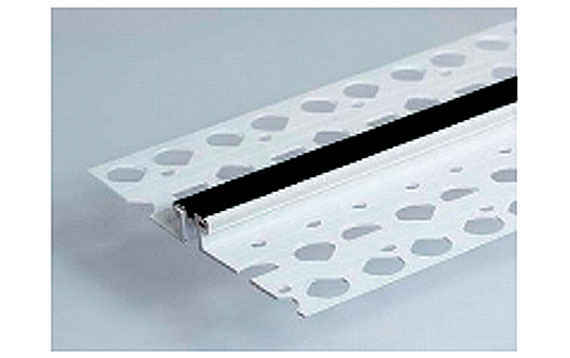 Drywall Plastering Scrim tape is available as 90m x 48mm and is a high strength, 100% fibreglass close weave (9×9) mesh scrim tape with self-adhesive backing.