125mm Party Wall Cavity Stop Socks 130mm x 250mm x 1200mm
Availability:
5 working days lead time.
Image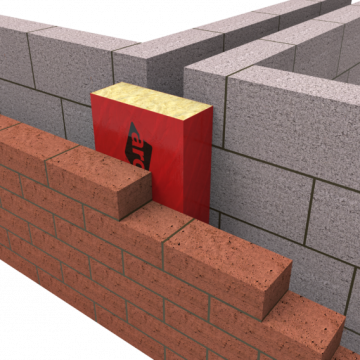 Additional Information
Product Code Suitable for Sleeve Colour Masonry Fire Performance Compression Dimensions Lengths per pack Packs per pallet
Cavity Width Fire Integrity Insulation Required
PWCSS125 125mm Red 4 hrs 4 hrs Friction 130 x 250 x 1200mm 6 10
Cavity fire barrier for masonry construction
» Up to 4 hours fire integrity
» Horizontal and vertical options
» Specified in terraced, semi-detached, apartments and major projects
» Meets requirements of Robust Detail Part E and Approved Document B
» Maximum cavity width available: 300mm
» Easily installed with compression fit; no mechanical fix is required
» Third-party certificated by Certifire
Application
ARC Cavity Stop Sock restricts the spread of smoke and flames within the cavity of external masonry walls. It is ideally suited for providing a cavity barrier within the external wall cavity, in line with a separating wall or floor as specified in Approved Document B, and for closing the cavity at eaves level.
Party Wall Junction
ARC's Party Wall Cavity Stop Sock is designed for use at the party wall junction; fitted in the external wall cavity, with a minimum 50mm overlap either side of the party wall cavity. At 250mm wide, ARC's PWCSS range is suitable for use with party wall cavities up to 150mm wide. These wider barriers do not require a compression fit, and are supplied with a 5mm compression to allow for site anomalies.
Installation
ARC Cavity Stop Sock is designed to be simply compression fitted as the brick and block work progresses. No mechanical fixing is required, with the compression fit holding the barrier in place.
The barrier must fully fill the cavity from external brick to internal block. Any cavity insulation must be cut back at the location of the barrier, and care must be taken to ensure that the built cavity width is accurate and that the size of barrier fitted is appropriate to this.
» Vertical application: we recommend building up the internal block work first. Then progress several courses of brickwork, before installing the barrier. The brickwork can continue, building the barrier in. Care must be taken to ensure the correct compression fit is achieved.
» Horizontal application: build the brickwork up to the level the barrier will be installed, ensuring the width of the cavity is correct. Allow the brickwork to set, before push fitting the barrier in to place and under the correct compression.
» At the end of a run, or at a corner, lengths of barrier should be cut to the required length, and then tightly butt jointed ensuring no gaps remain.
» The polythene encapsulation does not contribute to the performance of the barrier, but offers weather protection and product identification. We recommend that it is left in place for these purposes, however if it becomes torn or damaged there is no cause for concern.
» You should not attempt to squash the barrier before installation. Although this can make the barrier easier to fit, it is likely to cause gaps and may damage the barrier, resulting in reduced performance.
Length supplied 1.2m
Third-party certification Certifire CF5403
Insulation Non-combustible rockfibre mineral wool
Thermal conductivity 0.037W/mK
Fire rating Up to 4 hours
Insulation performance Minimum 15 minutes
Test standard BS 476 Part 20
Construction type Masonry
Orientation Vertical or horizontal
Robust detail performance E-WM 1-21
Link to webpage
https://www.arcbuildingsolutions.co.uk/products/cavity-stop-sock/