Small Variety Shim Pack
Availability:
3 working days lead time.
Image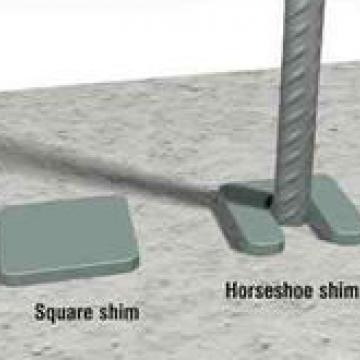 Additional Information
For demanding applications, particularly levelling of pre cast concrete sections, heavy duty plastic shims are recommended.
Manufactured from high strength, impact modified plastic, these shims can withstand high loads without distortion or breakage. Full, independently verified test data is available if required.
The standard shim size is 70mm x 70mm, with optional flat or horseshoe design to fit around bolt fixings up to 20mm diameter.
Square Shim
70 x 70 x 2mm
70 x 70 x 3mm
70 x 70 x 5mm
70 x 70 x 7mm
70 x 70 x 9mm
70 x 70 x 10mm
Horseshoe Shim (Fits up to 20mm bolt)
70 x 70 x 2mm
70 x 70 x 3mm
70 x 70 x 5mm
70 x 70 x 7mm
70 x 70 x 9mm
To discover more about Heavy Duty Shims and Techmarkets range of bespoke plastic components, please call us on +44(0) 161 876 4125 or email [email protected]