VC Ultra Foil 2.7x100m
Availability:
4 working days lead time.
Image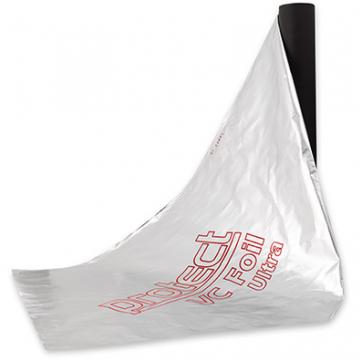 Additional Information
A robust highly reflective low emissivity vapour control layer used to enhance the thermal performance of the wall, ceiling or floor construction.
Suitable for use in all types of construction in conjunction with a still air cavity (ie; timber, masonry or steel construction).
Reflective surface enhances the performance of the structure.
Reduces unwanted air leakage.
Helps meet the requirements of Approved Document Part L.
Excellent vapour resistance.
Extremely robust construction virtually eliminates site damage.
Excellent nail tear.
Easy to cut and lightweight to handle.
Independently certified.
Integral sealing tapes on joints of 1.35 and 1.5m wide product.
http://www.protectmembranes.com/protect-vc-foil-ultra-insulating-avcl/p…
http://www.protectmembranes.com/uploads/8ad9ebbc1788c4de4a4bce1b86a8ae9…